Opera in 1 Act
The new documentary video THE FACE ON THE BARROOM FLOOR – THE POEM, THE PLACE, THE OPERA is available for viewing on YouTube.
Libretto by John S. Bowman
Duration: 25 min.
Commissioned by the Central City Opera in 1978 and produced there each year since its premiere in '78; also produced annually at the Utah Opera Festival in Logan Utah; it is constantly in production by various American opera companies and universities, and has also been produced in the Netherlands, Scotland, and Germany. Available on New World Records (formerly a CRI recording.)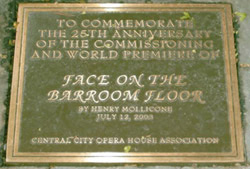 The opera tells two tales, separated in time but parallel in characters and theme. In present day Central City, CO, Isabel, a member of the opera chorus, and her friend Larry visit the Teller House bar. Larry orders champagne and asks about the face painted on the floor. Tom, the bartender, tells the story, which is enacted as he becomes a 19th century bartender named John, who welcomes the bargirl Madeline (played by Isabel) as they toast to the future.
A disheveled traveler, Matt (played by Larry), enters and orders drinks for all while Madeline is asked to sing. Unable to pay for the drinks, Matt offers instead to paint a portrait on the barroom floor of the only woman he ever loved. John discovers the portrait is of Madeline. The two men fight until Madeline throws herself between them, with tragic consequences. Larry, now back in the twentieth century, laughs drunkenly at the old legend and forces Isabel to dance with him. Tom now reveals his past romantic relationship with Isabel, and challenges Larry. Events in the past repeat themselves in the present, continuing the legend of the face on the barroom floor.
REVIEWS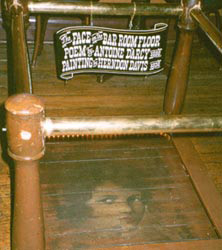 "…there was Henry Mollicone's The Face on the Barroom Floor, revived this year with something like a cult success… The drama is predictable but strangely powerful; the audience is gripped. I found it even more gripping a second time round. It is a very skillful score… It's a good piece."
–THE NEW YORKER – Andrew Porter
"Mollicone's musical language is an irrepressible stylistic grab-bag. He knows how to write for voices and how to entertain… Mollicone's personality and his eupeptic wit are already more important than his various stylistic debts which include the Broadway of Bernstein and Sondheim, a bit of disco and figures like Prokofiev, Satie and Copland… Mollicone is without question an operatic talent to watch, with an infallible sense of dramatic pace and tension."
–THE GUARDIAN, London – Tom Sutcliffe
"Mollicone should go far; he can't seem to write a note that doesn't sing."
–NEWSWEEK – Annalyn Swan