An Opera in 3 Acts
Film to be available in early 2014
Libretto by Judith Fein

Voices:
2 Sopranos, 2 Mezzo-Sopranos, 2 Tenors, Baritone, Bass-Baritone (constructed so that only 8 singers are needed; each person may play up to 3 parts)
Instrumentation:
Flute (Pic), Clarinet, Horn, Cello, Contrabass, Electric Bass, Piano (Synthesizer), Percussion

Length:
Approx. 2 hours
Each act of the work is a complete story within itself and can be performed alone, as desired.
Act One: Adam and Eve's adventures in Hotel Eden, which involve Adam's "first wife," Lilith.
Act Two: Admiral and Mrs. Noah come to Hotel Eden on New Year's Eve. Admiral Noah is retired from the sea and is a recovering alcoholic.
Act Three: Sarah and Abraham have been coming to Hotel Eden for 41 years. Sarah, feeling old and sad that she has never been able to have children, suddenly finds herself pregnant.
World Premiere Production, November, 1989, OPERA SAN JOSE
REVIEWS
"Not so much an opera as a glitzy, hip, sometimes tender, often tuneful piece of musical theater, the new work is a feminist reading of three stories from the Old Testament….The music, ranging from rock and jazz to Menotti, Bernstein and Goodbye, Old Paint,…conveyed convincingly the sense of the libretto, completed before any notes were penned. Scoring for the small chamber ensemble was outstanding. On December 1, Barbara Day Turner conducted with unfailing sensitivity (the composer led the final two of seven performances)."
–OPERA NEWS – William Ratliff
"Opera San Jose has continued its imaginative way with an ambitious two-day national conference…and the premiere on November 25 of HOTEL EDEN, a lark of an opera by Henry Mollicone to a libretto by Judith Fein….The treatment…recalls such romps as ANGELIQUE by Jacques Ibert and LES MAMELLES DE TIRESIAS by Francis Poulenc, but a thoughtful note at the end…reminds us poignantly that today's implacable Middle Eastern antagonists spring from common progenitors. Mollicone employs a compact orchestra, dictated by the cramped confines of OSJ's current home, and his music remains tonal and singable throughout….all contributed to an overall production boasting an unusual level of polished professionalism."
— MUSICAL AMERICA – Paul Moor
"Mr. Mollicone's credentials are the finest and what strikes one immediately about the music to HOTEL EDEN is its professionalism. Although it is in a lighter style closer to the musical there is nothing tentative about its idiom, its writing for voices or for the aptness or inventiveness of the instrumental writing."
— OPERA, London – James Helme Sutcliffe
"Hotel Eden is a beautifully crafted work of consummate joy. Three tales with Biblical roots told with modern influences, wit, insight and incredible balance among many elements of the musical theatre. Judith Fein's libretto looks at Adam and Eve, Noah, and Abraham and Sarah from the woman's point of view…Henry Mollicone's music supports the text superbly, meshing styles from modern classical to jazz to soft rock in ways that are original, melodic, thoroughly modern, never trite and always accessible to the listener….The work moves easily from farce to satire to serious political themes to deep emotion, from dialogue to aria to ensemble, and among various musical styles with ease and grace. Both the text and the music are in perfect harmony in this area. One is given terrific entertainment and yet goes away from the theater thinking, and how often does that happen in the opera house?…The composer may want to know that I felt one of those chills down my back during the orchestral interlude that marked the birth of Isaac in Act III, and there was a tear in my eye during the finale….If it ever comes your way, try to see it. The standing ovation for the composer and the librettist were richly deserved, as is this one for Opera San Jose."– OPERA GUIDE, Los Angeles -Stephen Lowens
"Mollicone…is a well-bred eclectic. He can write simple love melodies. He can interpolate hard-pop…and sticky-rock diversions. He can toy with show-biz routines as well as old-fashioned operatic procedures. He scores nicely for a tiny chamber orchestra, deftly for the voice."
— LOS ANGELES TIMES – Martin Bernheimer
"The grand opening of Opera San Jose's Hotel Eden at the Montgomery Theater last weekend was a signal success. Upbeat, provocative and craftily conceived, the Hotel Eden is sure to endure beyond its current two-week stint…and is destined for bigger houses….Hotel Eden is not an avant garde work by any stretch of the imagination, but it is indeed contemporary, and funny. It is ultimately accessible and delicious to take in, yet at the same time manages to sneak in modern philosophical notions and very unconventional staging conceits. Witty, touching, and often most beautiful, Hotel Eden rolls out a lush carpet of sensations that are seamlessly woven together via superb artistry. Mollicone and Fein's music and words mingle to one another's enhancement and show how much the two mediums can add up to when mixed properly…Mollicone's attractive tonal melodies and edgy streetwise syncopations are catchy and memorable, and yet as the singers will testify, wholly sophisticated and challenging to execute. A veteran opera conductor, accompanist and coach, who has already completed four operas, Mollicone shows utmost wherewithal in the medium. With an orchestra of only eight players–deftly directed by Barbara Day Turner–he musters glowing panoramas from the pit, so transparent that voices are at no time covered. Mollicone's rhythmic devices are myriad and hardly limited to angular profiles. Shifting meters are used to great lyric effect, especially in Adam and Eve's arias and duets….This is a show to catch, folks, immensely enjoyable and thought provoking, all in one."– SANTA CRUZ SENTINEL – Phillip Collins
"Well, well–at last we've found a bona fide composer of comedy. Henry Mollicone's new music-theater piece, Hotel Eden is a hit at Opera San Jose these days. Unorthodox. Sexy. Sassy. Jazzy. Exuberant. And it's a good enough hit to warrant other theaters reviving it in the future. The modern Hotel (Garden of) Eden has been leaving audiences rollicking this past weekend…A frequent Civic Light Opera conductor, Mollicone is in his element with an orchestra of synthesizer, percussion and a group of less than a dozen players all told. His economies make this piece…adaptable to stages even smaller than Montgomery Theater. Mollicone's supreme talent is his comic bent, which he already showed in Starbird,and it comes to fruition here alongside the witty librettist Judith Fein. Hotel Eden is like a modern-day Ariadne Auf Naxos, where the comic players have to go on simultaneously with the static, noble figures. Each act has a trio of angels kicking up their heels in commenting on the action….Once they pop up as a rock vocal group, complete with cordless mikes….The music is catchy and splashy, more like Leonard Bernstein's Broadway style than anything operatic you're likely to have heard."
— SAN JOSE MERCURY NEWS – Paul Hertelendy
"It's clever, highly original, musically engaging. Most of all, it's great fun. Sexy, even….The angels serve, in effect as Greek choruses… But they cut up with flair and manage to put everything sung by the main characters in hilarious perspective….Singing is most often in traditional operatic style but all of the handsome, multi-talented cast members show they can handle every style, even rock, quite well. (A brief rock ensemble takes place when there's a New Year's bash in which Mrs. Noah and three angels shake things up.)…Each intermission leaves one anxious for the next act to begin. "How can they top that?" seemed to be on everyone's lips in the lobby."– THE SACRAMENTO BEE – Robert A. Masullo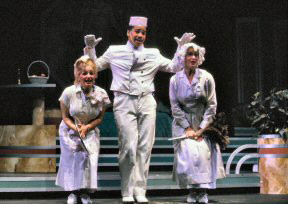 Welcome to the Hotel Eden!
by Roger Brunyate
(Courtesy of Opera at Peabody)
Welcome to the Hotel Eden—
A happy day, Shalom!
It's really just like Paradise —
You'll feel like you're at home.
Thus the opening chorus of Henry Mollicone's Hotel Eden. The Peabody Opera Theatre last performed the opera in spring 1992, in the Friedberg Concert Hall. This time the Peabody Chamber Opera will be presenting the work at Theatre Project, whose smaller, more intimate space will make the perfect venue, since in this opera the familiar bible stories are reduced down to a very human scale indeed. This music theater piece with text by the Hollywood scriptwriter Judith Fein takes three stories from Genesis and re-imagines them in a Palm Beach hotel. With its underlying themes of marriage and the redefinition of the relationship between married couples, Hotel Eden is a feminist work, centered around strong women, women who realize that they can be strong, or women who discover that they must be strong.
Hotel Eden began life as a short one-act piece, Lilith, completed in 1985. The story is that of Adam and Eve, on a perpetual honeymoon in the luxurious Hotel Eden ("Its Paradise here!"). It is a male chauvinist's dream. Theirs is the perfect love, proclaimed in a lyrical opening duet. Eve is the perfect wife, catering to Adam's every need. They are waited on by three Angels, in the incarnations of waitress, cleaning girl, and bellhop. But there is a snake in this garden: Adam has been married before. The idea comes from Jewish legend in the Kabbalah. Adam's first wife, Lilith, refusing to accept her subordinate role, has been banished from the garden, and the more compliant Eve created in her stead. But now Lilith comes to visit Eve in the Eden Hotel. She has become a prostitute, preying on men, maltreating her children as Adam had maltreated her. Eve's sympathies go out to Lilith, but her paradise is shattered. She leaves the hotel. Adam is told that his room is no longer available, and leaves also. The Angels contrive a reunion between the couple, but the rest is up to them. Somehow they have to piece together a new relationship based upon honesty, equality, and the knowledge of the good and evil in themselves.
Lilith came to the attention of Robert Darling, who, as director of the Central City Opera Festival in Colorado, had commissioned Henry Mollicone's first opera, The Face on the Barroom Floor, in 1976. He suggested that composer and librettist add two other Genesis stories to that of Adam and Eve, setting them all in the same hotel. So Lilith, with its young married couple, became the first act of the completed opera. The second act deals with the tired, twenty-year marriage between Noah and his wife. The final act, about Abraham and Sara, shows a couple in their golden years. The full opera was premiered by Opera San Jose, California, in 1989.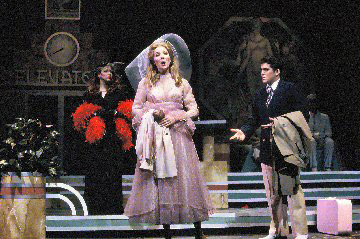 By the start of the Mrs. Noah act, the Hotel Eden is in disrepair. The tarnished Angels — a Repairman who doesn't do any work, a Chef who tells the guests to send out for Chinese, and an Emcee concerned only with her fingernails — sit around reading People and the National Enquirer. It is New Year's Eve. Admiral Noah, recently retired from the navy is brought to the hotel by his wife for what she clearly intends to be a romantic second honeymoon. But things go from bad to worse. Noah hits the bottle, and his exasperated wife goes down alone to party with the Angels. Tired of always being referred to as "Mrs. Noah," she insists that they use her real name: Rosalind. A disco rock scene ensues ("Roz is hot!"), which is interrupted by water dripping through the ceiling; the Admiral, above, is almost drowning in his bath. They all rush up to save him, but the water shorts the electrical circuits and the hotel is plunged into darkness. Then a stroke of magic: the emergency lighting comes on, refracted by the water into rainbow hues. In the hush that follows, Noah approaches Rosalind with new respect, and they agree to start again. Meanwhile, the Angels get to work straightening out the hotel.
The third act, Sara, is less about the relationship between Sara and Abraham than that between Sara and her maid, Hagar. As in the Bible, Sara has been childless and has agreed that Abraham should father a child on Hagar, who worships him. Although still ambivalent about her feelings, Sara agrees to make Hagar's son, Ishmael, their only heir. But then the Angels — now a doctor and two nurses — enter and announce that Sara is pregnant. In a rapid-fire farce sequence, Sara and Abraham choose a name for the boy — Isaac — and before we know it she is in the midst of labor! Suddenly the proceedings are interrupted by Hagar. Isaac cannot be born and take Ishmael's heritage from him.
In the Bible, as we know, Isaac is indeed born, to become the founder of the Jewish people, while Ishmael is banished to the wilderness, where tradition names him as the ancestor of the Arab race. In the opera, however, the Angels bring about an understanding between the two women, and at least the possibility of peaceful coexistence between Isaac, Ishmael, and their descendants.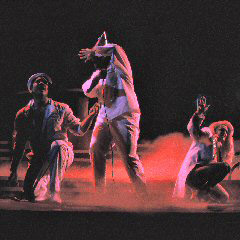 Like that other "M" composer, Mozart, Mollicone has taken the popular music of his time and transformed it to his own ends, creating a work which is fun to listen to, but whose end result is serious and deeply moving. And Hotel Eden certainly is fun! Born in 1946, Henry Mollicone is witty, and irrepressibly irreverent. The score abounds with markings such as " Miami Beach tempo," "Ipanema feel," and "Quiet hospital blues." The final page bears a happy face with ears, and the inscription "3/14/88, San Jose, Calif., Home of the Prune"! Judith Fein's libretto matches the music in wit, as for example in the advice given to the laboring Sara by the Doctor and Nurses:
Try to think of nice distractions
When you're having those contractions:
Think of Caribbean beaches,
Think of mangoes, guava, peaches.
When you feel those inner foments,
Try to think of happy moments… etc.
Mollicone can write tunes of all kinds. Oddly enough, though, it is not the upbeat pop numbers of the jazz Angels that stick in the memory, but the moments of pure singing, when everything seems to stop. The miracle of the rainbow when Noah and Rosalind are reconciled goes far beyond a mere trick of lighting; it is a musical miracle also — a love duet of such simplicity that it catches at the heart. Out of this develops one of those reflective ensembles at which this composer excels. "Did the Director know this would happen?" asks the Repairman; "I wonder…"
…I wonder if He knows how hard a task it is
To bare our hearts and live a life that's modeled after His?…
I wonder why it takes all our years upon the earth
To open up our hearts to love, and truly know its worth?
The unforgettable melody to which this is set recurs in the third act as Abraham recalls the early days of his marriage to Sara. From there to the end of the opera, it reverberates as a touchstone of humanity, simplicity, and love regained after so much turmoil. It is at moments like these that one feels the comparison with Mozart may not be altogether far-fetched.