Opera in 2 Acts
Libretto by Sheldon Harnick
Orchestral parts for rent from: http://ecspublishing.com/departments/rental/rental-request-form/
Phone: (508) 620-7400
Voices:
3 Sopranos, 2 Mezzo-Sopranos, Alto, 2 Tenors, Bass-Baritone, Chorus (minimum of 24 singers, including 2 Tenors, Baritone and Bass soli)
Instrumentation:
2 (Pic)/2(EH)/2 (BCl)/ 2 3/2/3/0 P (3) Pno/Cel/Synth (1) H Str
Length: Approx. 2 ½ hours
Commissioned by the Lyric Opera of Kansas City
World Premiere Production:
Lyric Opera of Kansas City – March 1998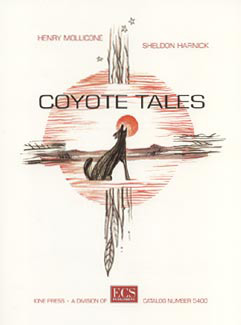 The libretto, by Sheldon Harnick (Fiddler on the Roof), is based on Coyote and Pavayoykyasi (taken from Hopi Coyote Tales). The five tales told in the opera are based respectively on legends from the Crow, Okanagon, Karok, Klamath and Hopi tribes. The music is not intended to resemble Native American songs and traditions; its style is pure Henry Mollicone.
Each of the tribe's tale is told in a separate scene. The Coyote figure is featured prominently in each, representing the embodiment of the entirety of our human nature. The five tales are Old Man Coyote Makes the World, Coyote Keeps His Name, How Coyote Brought Fire to the People, Coyote in Love with a Star, and Coyote and Pavayoykyasi.
The five scenes are held together by the character called "The Storyteller," who at the end of the opera addresses Coyote: "As you behave, we shall too. Old Man Coyote, we are you."
Says Mollicone: "Coyote Tales presents an operatic treatment of human adventures in the American Plains, based on five Native American tales. Our work takes a brief look at the human drama—how we behave and react to life's continuum of challenges and ongoing events. Lonely or gregarious, kind or cruel, friendly or deceiving, Coyote continues to be reborn and to seek fulfillment, as he chooses from the range of good and evil solutions available to mankind. Inspired by Sheldon Harnick's libretto, I have tried to compose a melodic and dramatic score which expresses the full range of human emotions."
REVIEWS
"…one of the most distinctive American opera composers…" · WASHINGTON POST
"And not since he wrote lyrics to Jerry Bock's music for such beloved Broadway shows as "She Loves Me" and "Fiddler on the Roof" has Harnick collaborated with the composer of such freshness and substance. Mollicone's score for "Coyote Tales" runs the gamut of sonic delights, basking in American folk idiom and affectionate references to Strauss, Britten, Copland and Bernstein.
Donald Rosenberg – THE PLAIN DEALER
"…tonal, tuneful and vigorously rhythmic—an interesting blend of Broadway and Britten. …Mollicone's scoring allowed Harnick's text to be delivered with exceptional clarity and effect. …a worthy new opera then, in a production which represented ensemble opera at its best, and a real feather in the cap for the Kansas City company." · OPERA
"Harnick's dramatically sure-footed libretto was an excellent base for Mollicone's musical style, which may owe something to both Britten and Bernstein but made an effect all its own. The composer delineated each tale with distinctive music, and Maestro Russell Patterson was at one with the work. …In all, a nearly faultless production of a very strong new opera." – OPERA CANADA
"…an engaging work, and Mollicone has written an accessible but never condescending score. …Mollicone and Harnick…follow in the footsteps of Lloyd Webber and Sondheim." · AMERICAN RECORD GUIDE
"Mollicone's score favors a streetwise eclecticism, much influenced by jazzy musical-theater idioms. ….sassy syncopation and brightly lit orchestration. Moments of high emotion bring forth harmonically charged surges. …there are moments of orchestral magic…it is entertaining music theater." · OPERA NEWS
"Coyote Tales is very much a child of Bernstein's Candide. We're given creation and destruction, love and loss, but in a light-hearted spirit. …Harnick and Mollicone are thoroughgoing professionals, and Coyote Tales is an entertaining way to spend two hours." · KANSAS CITY STAR
"There was a variety of fascinating characters – animal, human and ethereal – and compelling stories gathered from Native American sources. … Cleverly re-told by Harnick, the stories relate Coyote's history. …All this was dressed in Mollicone's richly rhythmic and strongly melodic music (think Bernstein) and performed by a deeply engaged ensemble…" · OPERA NOW
"Mollicone's accessible, eclectic style borders on Broadway—but certainly is a craftsmanlike piece of work, atmospherically responsive to its text." · TORONTO STAR
"Coyote Tales provides an opportunity for a general audience to share the wisdom and joy of some of our traditional Native American stories. …In every way, Coyote Tales is deeply respectful of the continuing tradition it seeks to illuminate." · Simon Ortiz, Native American Author
The original cast recording of Coyote Tales is available on Newport Classic.
Score and materials are available from ECS Publishing.
Audio