"…One of the most distinctive American opera composers." –The Washington Post, January 1998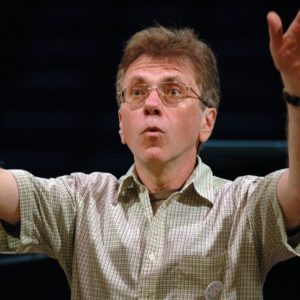 From l985 to the present, as a resident of San Jose California, Mr. Mollicone has worked actively as a free-lance conductor of opera, symphonic, and new music ,while holding various university teaching posts. Music composed during this period include the operas HOTEL EDEN (premiered at Opera San Jose, and later produced in New York and Baltimore), and COYOTE TALES (premiering at Lyric Opera of Kansas City with a subsequent production at Overlin Conservatory), several orchestral works, songs, cantatas, and chamber works, and the music for the Studs Terkel musical LEGACY (with composer Jeff Langley), and lyrics by Ronnie Gilbert (The Weavers). His one-act operas have received several productions during this period, often with the composer as music director/conductor. He has also been a Woodrow Wilson Visiting Fellow from l997, and has been on various panels and onsight visits for The National Endowment for the Arts. Mr. Mollicone and librettist William Luce completed a new opera, GABRIEL'S DAUGHTER, commissioned by the Central City Opera, premiered in July, 2003. Mr. Mollicone composed BEATITUDE MASS (mass for the homeless), with Latin texts and additional English texts by William Luce, based upon interviews with homeless people in California, for the San Jose Symphonic Choir. More recent commissioned works include three large choral pieces: MISA DE LOS INMIGRANTES (mass for the immigrants) for the S.J. Symphonic Choir, A SONG FOR OUR PLANET (celebrating the earth) for Seattle First Baptist Church and Plymouth Church in Seattle, and ALL GOD'S CHILDREN for Vancouver Singers USA. New piano works include LA CENERENTOLA: FANTASY FOR PIANO, FIVE BAGATELLES, and MISTERIA. The opera CHILDREN OF THE SUN was commissioned by Notre Dame de Namur University (piano and voices) and the University of Texas San Marcos (small orchestra versiion). In addition, for the San Jose Chamber Orchestra and Quartet San Francisco, Mr. Mollicone composed FANTASIA NOSTALGICA, and most recently for a benefit concert, a new song cycle, SUENOS DE ESPERANZA, which consists of four songs with texts based upon true stories of four Mexican immigrants and their experiences in crossing the border to California. A feature documentary film was released by NEWPORT CLASSIC LTD in 2013: THE FACE ON THE BARROOM FLOOR: THE POEM, THE PLACE, THE OPERA, largely based upon the 26 minute opera which played each summer in Central City, Co. for 33 consecutive seasons.
Between l976 and l985, Mr. Mollicone worked as a free-lance composer, conductor, and pianist while a resident of Los Angeles. He composed the one-act opera THE FACE ON THE BARROOM FLOOR in l978 for the Central City Opera, and it has been produced there annually from l978 to the present; the work, which has received numerous productions in America, and productions in The Netherlands, Germany, and at the Edinboro Festival, is also produced produced at the Utah Festival Opera (since l999). Other works composed during this period include the one-act operas STARBIRD (for The Houston Grand Opera's Texas Opera Theater), EMPEROR NORTON (for San Francisco Opera's Brown Bag Program), and THE MASK OF EVIL (for the Minnesota Opera). Both STARBIRD and EMPEROR NORTON have received several productions. (The New York premiere of NORTON will occur in November, 2014 at Chelsea Opera in Manhattan.) During this period (1976-1985), Mr. Mollicone also worked as an orchestrator and composer for film and television, as a studio pianist, and as conductor for productions at over a dozen American Opera companies including Baltimore Opera, Portland Opera, Central City Opera, and The Lake George Opera Festival.
Upon graduating from the New England Conservatory with an M.M. in composition in l971, Mr. Mollicone took a position as an assistant conductor with the New York City Opera, remaining there until l975, when he became a musical assistant on the Bernstein-Lerner musical l600 PENNSYLVANIA AVENUE. In this position, he worked with Leonard Bernstein on some of the dance music in the show. While in New York, he composed the score to the feature film, THE PREMONITION, starring Richard Lynch, Sharon Farrell, and Jeff Cory.
As a composer, conductor, and accompanist, Mr. Mollicone has worked with actors Jean Stapleton, David Ogden Stiers, Angela Lansbury, and Charles Nelson Reilly; writers William Luce and Sheldon Harnick; singers Frederica Von Stade, Erie Mills, Beverly Sills, and Maria Spacagna; and conductors Leonard Bernstein, Joann Falletta, Julius Rudel, Williann Steinberg, Arthur Fiedler, Newton Wayland, and David Effron.
A graduate of the New England Conservatory of Music (B.M. in composition and piano, M.M. in composition), Henry Mollicone did additional graduate study in music at Brandeis University, and has attended the Berkshire Music Center at Tanglewood for two summers. He studied composition with Donald Martino, Gunther Schuller, Daniel Pinkham, Seymour Shifrin, and Ron Nelson, piano with Robert Helps, Miklos Schwalb, and Ivan Waldbauer, orchestration with David Del Tredici.
Teaching experience includes part-time positions at Los Angeles Community College, a full-time position as artist-in-residence (as recipient of the Frank Sinatra Chair ) at Santa Clara University. He is presently an adjunct lecturer at Gavilan College and Notre Dame de Namur University. At Santa Clara University, Mr. Mollicone's duties included building and conducting the university orchestra, composing music for several plays, conducting productions of musicals, and teaching classes. In addition to music theory, orchestration and conducting, he created several new classes: The Romance of Italian Opera, The History of American Popular Music, The History of Rock Music, The Symphony, and Composition for non-majors. He also served as visiting lecturer at the Eastman School of Music, heading the opera department for a five-week period.
Mr. Mollicone has received additional commissions for new works from several distinguished organizations, including The Central City Opera, The San Francisco Opera (and the Kurt Herbert Adler Award Foundation), The Houston Grand Opera, The Lyric Opera of Kansas City, The San Jose Chamber Orchestra, The Minnesota Opera, The Long Beach Symphony, The Fremont Symphony, and The Santa Cruz Symphony. He has received grants and awards from Opera America, The American Organ Historical Society, The Presser Foundation, The American Composers'Alliance (recording award for the opera THE FACE ON THE BARROOM FLOOR), Meet the Composer, The National Endowment for the Arts, The Leps Foundation, Santa Clara University, and other organizations. Two of his operas are available on compact disc: THE FACE ON THE BARROOM FLOOR (CRI), and COYOTE TALES (Newport Classic), along with four art songs on soprano Erie Mill's American song album, "Always: It's Spring". His music is published by ECS Publishing in Boston (formerly E.C. Schirmer), and CPP Belwin.
As an administrator, Mr. Mollicone is founder and music director of The Winchester Orchestra of San Jose. He has been music director of The South Valley Symphony, associate director of The Ernest Bloch Music Festival, and director of its composers' symposium, where he has invited and hosted composers Donald Martino, Paul Dresher, Joan Tower, Bernard Rands, and David Del Tredici. He has also devoted time to community service in various capacities, from l969 to the present, and is a member of the Gallup Poll Panel.