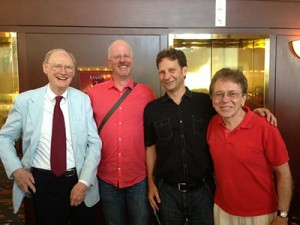 Kurt Ericson, Erling Wold, Kirke Mechem, and I all went to the excellent production of OTELLO at FESTIVAL OPERA in Walnut Creek, CA. Their lovely general director Sara Nealy noticed us chatting and took a picture.
How nice to see these friends at this performance of one of my very favorite operas: four opera composers paying tribute to the great master Verdi! The first three are all fine composers, and know how to write well for la voce (I can't speak for the last guy).
As for the performance and production, it was excellent in all respects. The voices were wonderful: Cynthia Clayton as the lovely Desdemona sang beautifully, and portrayed the character in a very moving way (her high notes were "to die for"); David Gustafson was a powerful and strong Otello both vocally and dramatically; Phillip Skinner was pure evil as Iago – his powerful performance of the "Credo" gave me a chill; Michelle Rice, Adam Flowers, and Nadav Hart were likewise first-rate, and Daniel Helfgot's production was powerful and skillful; sets and costumes were quite appropriate.
The chorus was excellent, and Maestro Michael Morgan and his fine orchestra brought it all to life with skill and musicality.
I truly love this great work, which Verdi finished when in his 70s, before composing his last opera, FALSTAFF. The poor man – he tried to retire in his fifties to spend more time working on his farm and philanthropic activities, but wife Giuseppina and librettist Boito lured him back to composing, bless their souls.
A fine night at the opera! Bravi to general directors Sara Nealy and Jose Luis Moskowitz (West Bay Opera) for making this a joint production.